AI4VET
A project about AI applied to VET schools
Applying AI in VET: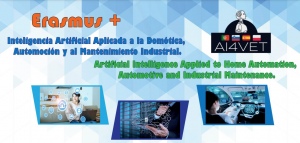 We are witnessing a particularly changing work environment in which technological advances are offering a change in the industrial paradigm. Industry 4.0 with the incorporation of the Internet of Things, electronic components, Big Data, robotics and the advancement of Artificial Intelligence (AI) are changing the workplace. In addition, new professionals are required to be able to work in multidisciplinary teams, to be especially creative and innovative, and to have the skills developed to lifelong learning, since changes will be constant and adapting to them will be essential.

This project brings together four vocational training centres coordinated by IES PABLO DE OLAVIDE from Spain, SOLSKI CENTER NOVO MESTO from Slovenia, CENTRUM KSZTALCENIA ZAWODOWEGO W WYSOKIEM MAZOWIECKIEM from Poland, CEPROF - CENTROS ESCOLARES DE ENSINO PROFISSIONAL LDA from Portugal, together with the technology centre: ASSOCIATION OF RESEARCH OF THE RELATED AND RELATED TOY INDUSTRY from Spain, form a balanced consortium with connections and synergies to incorporate AI in the fields of home automation, industrial maintenance and automotive.
Within the multiple branches of AI, bots are possibly the most developed in their successful application. A bot is a program that mimics human behaviour by performing automated tasks. Conversational bots or chatbots have had a great development in recent years thanks to the incorporation of AI, allowing natural language and machine learning to advance considerably.

The consortium has designed the development of three intellectual outputs for direct application of AI in VET centres in those sectors shared by the project partners: home automation, industrial maintenance, and automotive. For each sector, 6 demonstrators will be modelled that will be based on the cycles of each of the participating schools. Altogether 18 demonstrators. Different chatbots will be used in each intellectual output in order to adapt to the needs of each sector and to have a broader knowledge of the possibilities. In the field of home automation, a voice chatbot will be used. In the case of industrial maintenance, connectivity with mobile devices prevails. In the automotive field, a chatbot will be used to operate on social networks. In this way, the demonstrators will be enriched and our students will be able to advance in the knowledge of various tools, also adapting them to the sectors and studies they are studying.

On the other hand, five mobilities have been planned, four for students and one for teachers at the beginning of the project, to be able to train in AI tools that will allow the project to be implemented in the three sectors mentioned. For their part, students will be able to test the AI development activities that will be generated on their mobilities. Five transnational meetings will be organised to complete the project cycle for two years.